Why Choose Skilled Nursing at a Life Plan Community Rather Than a Nursing Home?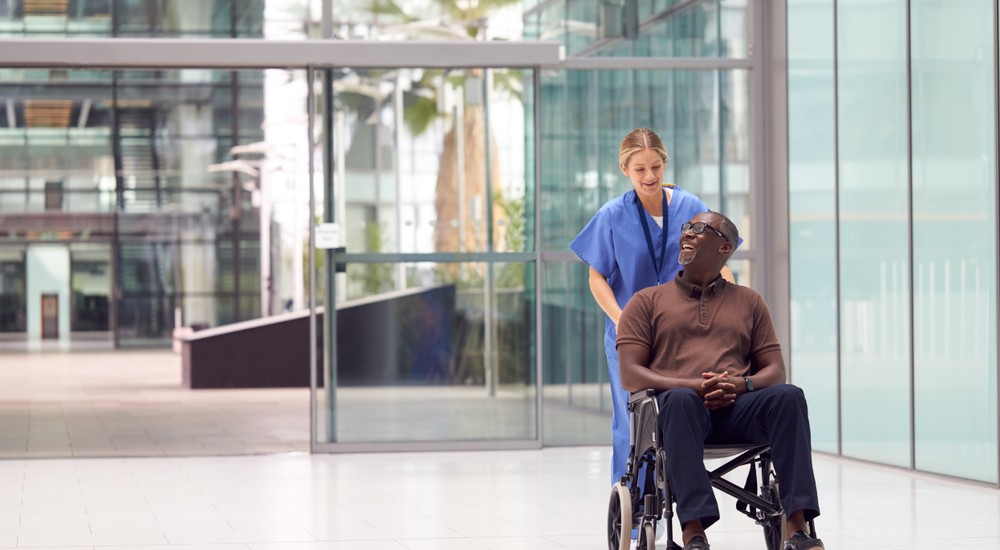 If your loved one needs specialized nursing care due to illness or injury, you may find yourself perplexed as you try to help them navigate the available care options. You may be hearing terms like "skilled nursing" and "nursing home" and wondering what those phrases mean and whether there's a difference. In fact, these two terms are often used interchangeably, but there is an important difference. To distinguish between skilled nursing vs. nursing homes, here's what you need to know:
Skilled Nursing vs. Nursing Home
Skilled nursing is a level of care in which round-the-clock supervision and medical care by licensed nurses and therapists is provided to people with special medical needs caused by chronic disease, injury, or ongoing health conditions. Residents in skilled nursing may require only a temporary stay until their health improves, or they may need this specialized care on a long-term basis.
Skilled nursing can be offered in a hospital, assisted living community, Life Plan Community — also known as a continuing care retirement community (CCRC)  — or in a stand-alone skilled nursing facility, often called a nursing home.
And that is the primary difference:  Skilled nursing is a level of care, while a nursing home is a facility where skilled nursing is the only level of care offered. A Life Plan Community, on the other hand, offers independent living and a continuum of care that may include any or all of these levels: assisted living, skilled nursing (including rehab), and memory care.
Similarities Between Skilled Nursing in a Life Plan Community and Nursing Home
Whether it's offered in a Life Plan Community  or in a nursing home, skilled nursing provides similar basic services, including:
Medical support. Trained medical staff provide high levels of care for residents needing therapies such as post-hospital care, wound care, pain management, or IV therapy.
24/7 monitoring.  Supervision by medical professionals ensures that residents are responding well to their treatment plan.
Help with activities of daily living (ADLs). Staff members are available around the clock to help residents who need assistance with daily tasks, such as dressing, grooming, bathing, going to the bathroom and managing medications.
Daily meals. All skilled nursing care includes daily meals for residents.
Rehabilitation services. Speech, physical, and occupational therapies may be offered to help residents regain abilities or learn adaptive strategies to cope with changes.
The Advantage of Skilled Nursing in a Life Plan Community
Because it's part of a larger community, skilled nursing in a Life Plan Community typically offers all the basics and more — more comforts and more amenities, including:
Fine dining. A Life Plan Community typically has a chef-led culinary team to create mouthwatering menus that emphasize good nutrition and good taste. An on-staff registered dietitian or nutritionist can help ensure special dietary needs are accommodated.
A homelike environment. In a Life Plan Community, a welcoming, comfortable environment invites residents to make themselves at home. Private or companion suites and pleasant common areas give residents the opportunity to enjoy time by themselves or to engage socially with other members of the community, family, and friends. Landscaped grounds may offer an additional perk, providing an outdoor retreat where residents can enjoy the benefits of spending time in nature.
Engaging activities. Hobbies and leisure activities support mental health and can provide a much-needed break from the preoccupations of coping with illness. A skilled nursing center in a Life Plan Community offers an engaging variety of activities, including art, music, and technology programs, ensuring that residents have ample opportunity for fun and socializing.
Convenience services. An on-campus beauty salon/barbershop  gives residents convenient access to the personal care services they need, while transportation services ensure residents can get to medical appointments and other places they need to go.
Skilled Nursing at Cypress Village
If you're like most people, the skilled nursing vs. nursing home distinction may not matter to you as long as your loved one can get the medical support they need in a comfortable environment. That's where Cypress Village can help. Whether you need specialized care on a short-term or a long-term basis, the experienced and compassionate health care team in our skilled nursing center can work with your loved one to develop a personalized care plan tailored to their unique needs and preferences. Plus, with the pleasant atmosphere, chef-prepared menus, and full calendar of activities, they'll find comforts and pleasures that can make the experience even more gratifying. Contact us to find out more about skilled nursing at Cypress Village or to schedule a visit.