Top 7 Services & Amenities to Keep an Eye Out for in Independent Living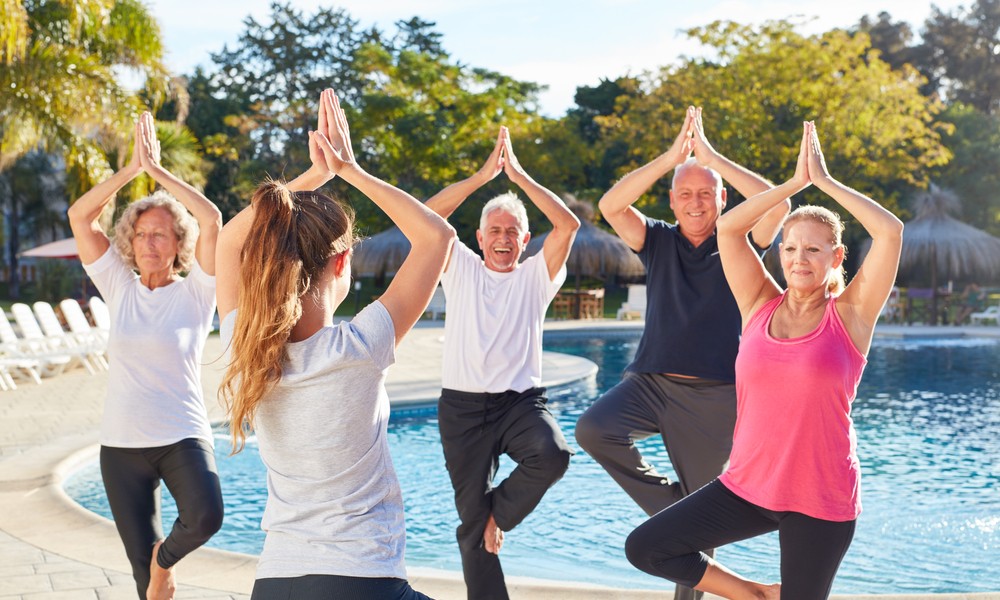 If you've decided that the active, maintenance-free lifestyle of an independent living community fits your retirement dreams, you may be wondering about your next steps. How do you choose a community that suits your hopes, goals and personality? Of course, there are numerous factors that go into your selection process, but one of the most fun things to notice — and daydream about — is which independent living services and amenities you prefer. As you weigh your senior living options and tour your top choices, look for services and amenities that provide opportunities for:
#1 Creativity
Whether you have a lifelong artistic passion or are looking forward to diving into new creative hobbies, look for communities that offer inspiration and creative engagement. Many independent living communities host arts and crafts classes, or offer music lessons. They may have designated creative spaces like an art studio, or woodworking or metalworking shop. Also, consider the area where the community is located. Are there nearby cultural attractions that inspire you — museums, galleries, a center for performing arts?
#2 Lifelong Learning
Continuing to learn and to follow your curiosity has numerous benefits: It boosts memory, supports psychological well-being, and decreases the likelihood of showing symptoms of Alzheimer's disease or other forms of dementia. Look for independent living amenities and services that include enriching opportunities to learn and grow, such as on-campus lectures and book clubs, or an affiliation with a local university where seniors can attend classes on a variety of subjects.
#3 Physical Fitness
It's no secret that physical activity has health benefits. The Centers for Disease Control and Prevention recommends that adults get 150 minutes of moderate-intensity aerobic activity weekly, plus two or more days of muscle-strengthening activities. The ideal independent living community will make it easy for you to enjoy your favorite fitness activities. Are you a golfer? A gardener? Features like a putting green, garden beds, walking trails, fitness classes, a pool and a fitness center will ensure that opportunities to keep moving are just outside your front door.
#4 Social Life
A dynamic and engaging social life is one of the many perks of a retirement community. New friends are around every corner. Clubs and interest groups invite you to meet like-minded people, as do common spaces, such as a game room, library, movie theater, and bocce ball court.
#5 A Comfortable Home
Even extroverts need some time alone. Senior living communities offer both the community engagement that fosters a feeling of belonging and the private residence that supports your sense of autonomy and gives you a retreat from the world. As you tour various communities, look for senior living floor plans that give you the room you need to feel at home. And if your four-legged companion is fundamental to your idea of home sweet home, look for a pet-friendly community, too.
#5 Gustatory Pleasure
"One cannot think well, love well, sleep well if one has not dined well," wrote Virginia Woolf in "A Room of One's Own." Indeed, food is one of the great pleasures in life. A senior living community with an array of dining venues — from elegant to casual, dine-in to grab-and-go — will ensure delicious variety to suit your taste and mood. When touring, find out if you can schedule a complimentary meal, so you can sample the fare. And if you have special dietary needs, ask if these can be accommodated, as well.
#6 Security and Leisure
One of the prime motivators for older adults looking into independent living is the maintenance-free lifestyle. Independent living services to look for include housekeeping, groundskeeping, and interior and exterior maintenance services that take many of the hassles of life off your to-do list. Also notice the security features. Round-the-clock security will give you the comfort of knowing your home and belongings are safe, even when you're traveling.
#7 Health and Well-Being
A multidimensional approach to wellness supports mind, body and spirit. Look for independent living services and amenities that include medical support – such as an on-campus wellness clinic – yet also provide opportunities for self-care, like a meditation garden, spa or salon. It's also a good idea to factor in long-term health and well-being. Some senior living communities are also Life Plan Communities, which means that, should your health change, higher levels of care, including assisted living, memory care, rehabilitation and skilled nursing, are available on the same campus at a predictable cost.
Add Cypress Village to Your List of Possibilities
As you make a list of your preferred independent living services and amenities, take a look at the upscale, lakefront lifestyle at Cypress Village. We're a Life Plan Community on Lake Cypress in Jacksonville, Florida, where off-campus cultural and recreational attractions, on-campus services and amenities, and our commitment to hospitality open the doors to an active, joyful retirement lifestyle. Contact us to learn more.