Downsizing 101: How to Downsize While Keeping What You Love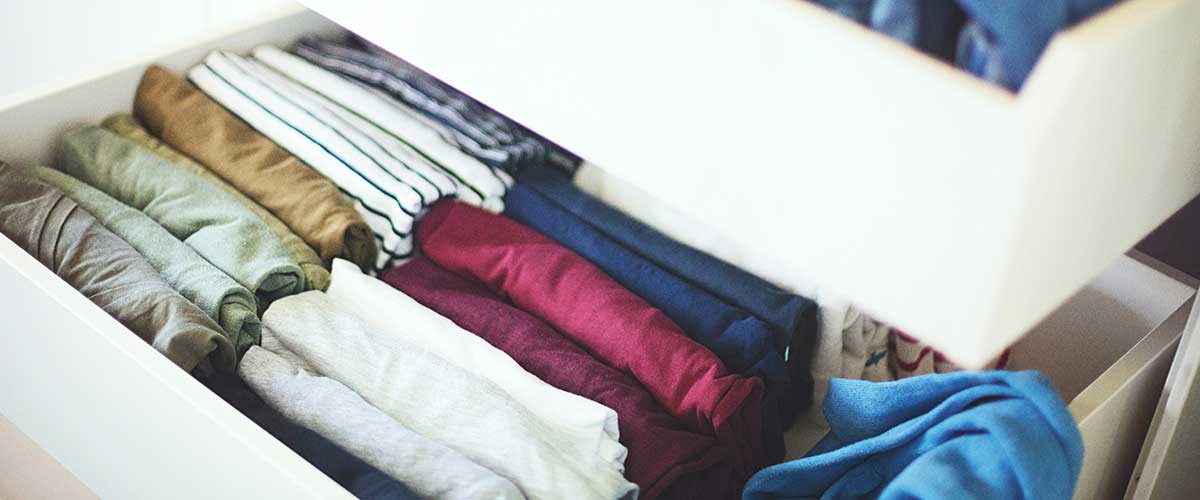 Rightsize your life and keep the things that bring you joy.
So you've decided to downsize. After a lifetime accumulating a houseful of belongings, the process may seem daunting, exciting and freeing, all at the same time. And you may find yourself wondering where to begin. The following tips on how to downsize and how to declutter will help you prepare for moving to a senior living community, and set you up to enjoy the next chapter of your life with more time for the people and activities you love.
Get in the right frame of mind.
Mindset is everything when you begin downsizing your home. You may approach the process with excitement — viewing it as an opportunity to declutter your home and get rid of the things that drain your time and mental energy. Or, you may be among the group of people for whom downsizing feels overwhelming.If you find yourself in the latter category, think about why you're downsizing. Would a more streamlined space help you feel more peaceful? Are you considering moving to a senior living community or to a smaller home? If any of these apply, it can help to remember that, while the technical definition of downsizing is to make something smaller, a more accurate term for what you're doing is rightsizing — curating the collection of items that are the right fit for the new life you're creating for yourself.
Start as early as possible and enlist help.
Use the time before your move to make a plan that divides up the tasks into manageable pieces and assign each one a date for completion. If you're not sure how to downsize, you may find it most helpful and efficient to take a room-by-room approach. Go through everything in one room before moving on to the next. It's also a good idea to enlist the help of at least one trusted friend or family member who can help you stay on task and even provide valuable insight into what you will and won't need in your new home.
Stay focused on the positive end goal.
When you stay focused on your goal and all the positive results you'll experience, the process becomes easier. As you proceed, remember that letting go of possessions you no longer need or want — and freeing yourself from responsibilities that weigh you down — will give you more time and energy to devote to doing more of the things you love. Invest in your relationships with family and friends, learn a new skill or hobby, focus on your fitness and overall well-being, volunteer your time, or do whatever you want to do. The choice is always up to you.
Give thanks for the memories.
As you go through your possessions, enjoy the memories they evoke and choose the most special or sentimental pieces that you want to take with you to your new home. While downsizing is about having fewer possessions, it's also important to keep items that have sentimental value, so you can make your new space feel like home. Perhaps it's a special throw pillow embroidered for you by a friend, that small statue of the Eiffel Tower from your trip to Paris, or a lovely quilt that's become a family heirloom. If they're important to you and will fit in your new home, there's no reason you have to part with them.No doubt there will be some things that hold good memories for you, but that you don't necessarily need or want to keep. Consider taking pictures of the things you enjoy looking at but won't be taking with you. Later, you can look at the pictures to relive the memories those items evoke.If you find there are things you're just not ready or willing to part with, consider renting a small, climate-controlled storage space. This can also be a good option for things like seasonal decorations that you plan to use occasionally, but don't have room to store in your new home.
Getting down to brass tacks.
As you consider what to keep, you're likely to get stuck at some point, and you may have to make some tough decisions. The following questions should help you keep things in perspective and make the best choice for yourself:
 Do I use this item regularly? Have I used it in the past year?
Does this item enhance the quality of my life?
Will it fit in my new space?
Does it fit my new lifestyle?
Is it particularly valuable from a monetary or sentimental standpoint?
Would a family member or friend enjoy or appreciate the item?
Handle it once.
As you move through your house, make it a goal to handle each item only one time — make a decision and move to the next item. Items you're keeping can be left in place or, if you'll be moving soon, they can be packed and labeled. For those things you won't be keeping, designate a temporary staging area. Within that area, divide items into the following categories:
Give to a family member or friend.
Sell at a yard sale, a consignment shop or auction house.
Donate to a favorite charity.
Discard or recycle it.
The friend or family member who is assisting you can also help make arrangements for these items to be picked up or otherwise distributed.
Call in the professionals.
If you don't have much time to prepare for your move — or if you find the process a bit overwhelming — consider calling in the professionals. Senior move managers specialize in helping senior adults downsize their homes, and also provide other services such as arranging for the sale, donation or disposal of items not going to your new home, and scheduling professional cleaning services. They can also be a good source of referrals for contractors to tackle repairs, and real estate agents who can help sell your home when you're ready. Best of all, you can pick and choose the services that meet your needs.If you've lived in your home for many years, and especially if you raised a family there, chances are you've accumulated quite a few belongings that you no longer need or use. Rightsizing is an opportunity to enjoy your memories while also planning for an exciting new chapter in your life. The key is to embrace the process, be realistic, and ask for help when it's needed. Here's to your future!
Cypress Village offers a selection of floor plans so you can choose the home that's the best fit for your rightsized life — from a studio apartment to a two-story, freestanding home with more than 3,000 square feet. To learn more, call us at 904-507-6702. We'd love to give you a tour, discuss your interests and answer all your questions.