How to Decide Between a 55+ Community and Independent Living in a Senior Living Community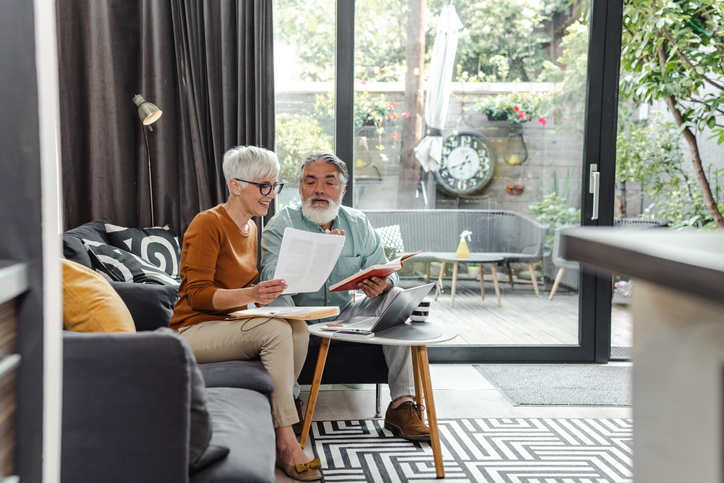 Things change as you get older — for the better! As your kids become more autonomous and you wind down your career, you have a newfound freedom to set your own priorities and pursue your passion projects. Contemplating these new opportunities, you may be drawn to the maintenance-free lifestyle available in a community that caters to older adults. If so, you'll discover two types of active senior living communities: 55+ communities and independent living in a senior living community. What's the difference and which is best for you? The following definitions can help you decide.
What Is a 55+ Community?
Sometimes called active adult communities, 55+ communities are designed for adults over the age of 55 who prefer a low-maintenance home in a community of similarly aged adults. Residences vary by community, but may include apartments, townhouses, condominiums or single-family homes. Most of these communities are age-restricted, requiring that at least 80% of residences have one or more occupants over age 55. Other 55+ communities may be age-targeted, with marketing efforts geared toward people who are 55 or older, but no age restrictions.
What Is Independent Living?
Similar to a 55+ community, independent living in a senior living community caters to older adults who are seeking a maintenance-free home that gives them more time to enjoy an active lifestyle. The minimum age may vary among communities, but is typically set at 65. A variety of floor plans, from studio apartments to 3-bedroom homes, give older adults the chance to choose the residence that suits their preferences and needs.
The Perks Are Similar
If 55+ communities and independent living sound similar so far, that's because they offer many of the same benefits, including:
Appealing services and amenities.

Features may include a pool, fitness center, walking paths, on-site dining options, and recreational opportunities like a putting green. In addition, services such as groundskeeping and home maintenance mean you can spend less time managing lawn care and more time enjoying a carefree retirement lifestyle.

A sense of community.

Isolation and loneliness can be serious concerns for older adults, and may

increase the risk

of numerous health issues, including dementia, heart disease, stroke, depression and anxiety. In

55+ communities and independent living

, friends and neighbors are in a similar life stage, giving you a basis for rapport. Plus, common areas such as a dog park or veranda offer community gathering places that encourage social connection.

Flexibility.

You're free to set as active — or as leisurely — a pace as you like, enjoying the amenities and community activities that pique your interest.

The perfect-sized home.

You can choose a floor plan that allows you to reduce clutter so you can rightsize your home and your lifestyle.
Independent Living in a Life Plan Community Offers More 
In both 55+ communities and senior living community independent living, you can enjoy a carefree retirement lifestyle now. But if you also have an eye toward the future, independent living in a Life Plan Community offers significant advantages. Unlike most 55+ communities, Life Plan Communities have a continuum of care, so you can enjoy all the perks of an active lifestyle in independent living knowing that, if your health needs change, you have priority access to long-term care on the same campus you've come to know and love. There's no need for a disruptive move to a new community during a health crisis.
What's more, if the Life Plan Community offers a Life Care contract, you can transition to higher levels of care at a rate that will be the same or only slightly higher than your monthly fee for independent living. This kind of care for life provides numerous advantages: the peace of mind of knowing where you'll receive care and who will provide it, plus protection from the rising cost of health care.
Explore Independent Living at Cypress Village
For an independent lifestyle with the security of a plan for life, visit Cypress Village and discover how our luxury amenities, lakefront homes, and on-campus continuum of care can support your retirement dreams. Contact us to learn more or to schedule a visit.